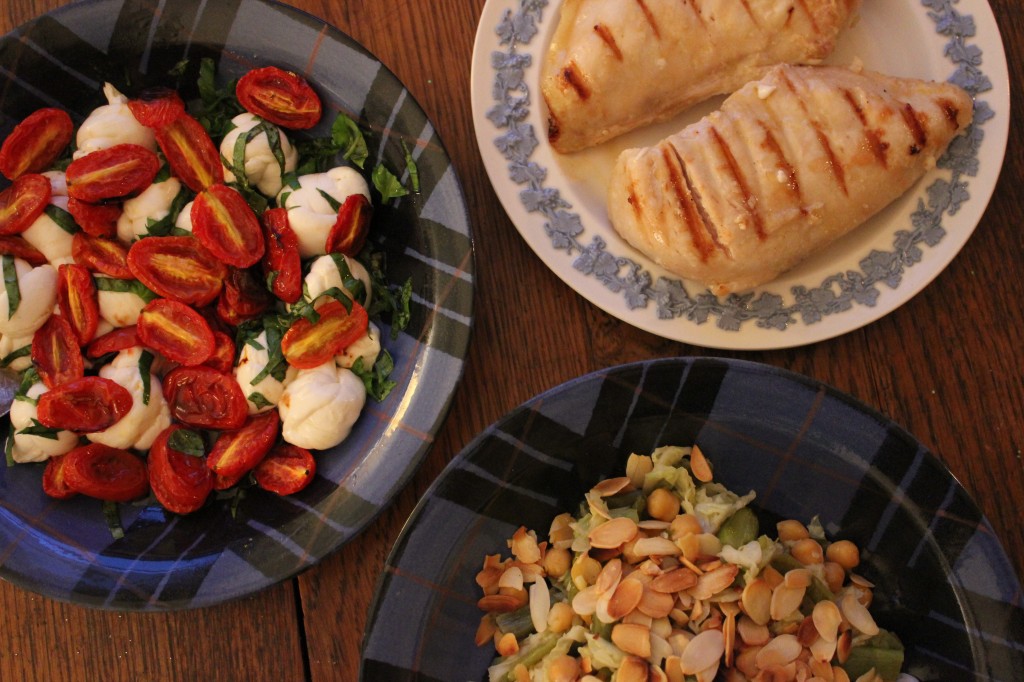 My almost five year old, Rose, planned dinner tonight. This morning she was telling me how interested she is in all the stuff I've been doing with pictures of food. I read to her from the blog for a good half an hour (at least), while she listened intently. Afterwards she told me what she'd like to have for dinner, stating that it would make a nice picture.
We had a roasted grape tomato, mozzarella and basil salad (below), grilled chicken and an interesting salad made with cabbage, chick peas, lemon juice, olive oil, roasted poblano peppers & toasted almonds. I think the cabbage dish could use a bit more work and will post if I improve it. For the record, Rose just asked for a tomato, mozzarella and basil salad, a green salad and chicken, I elaborated based on what we had on hand. The miracle of this meal was that Rose, usually a picky eater, willingly tried everything. I think this was because she had a hand in the meal.
• Mozzarella, Roasted Grape Tomato and Basil Salad •
1 container grape tomatoes
1 small deli container (8oz) of bocconcini 
a handful of basil leaves washed and slivered
olive oil
salt
Preheat oven to 350. Wash the grape tomatoes and halve lengthwise. Toss well with olive oil and salt to coat. Lay tomatoes on a baking sheet, cut side up, and roast until wilted and slightly crisp, about 45 minutes. Meanwhile toss the slivered basil and bocconcini with olive oil and salt to taste. Let tomatoes cool slightly and add to bocconcini mixture.