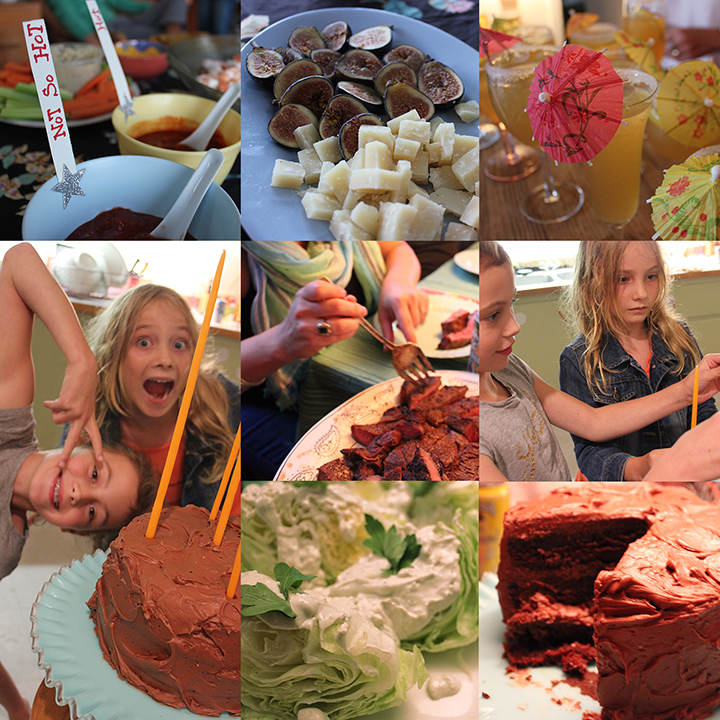 We close out every summer with a birthday celebration for my sister Anna. We either have steak or Mexican, and I almost always make a cake. This year was a steak year. But first, we had sidecar cocktails, veggies, dips, cheese, crackers, ribs from the smoker, shrimp cocktail, lots of family, 8 trips to the grocery store, an epic happy birthday song, and one husband almost lost at sea.
We really earned our sidecars that night. First, we had an awful lot of people and were just plain disorganized, thus the 8 trips to the store. Then, Shane decided to go for a nice kayak as hurricane Hermine approached.
Shane is a big, strong man, but he's no match for a hurricane. While I decided whether to be mad at him for being dead, or mad at him for not showing up to make cocktails on time, my dad and Bob kept their wits about them. Dad and Bob drove around the bay looking for a big, stranded man and found him. He arrived back and made sure everyone had a sidecar in hand just in time for Sid to serenade his Auntie Anna.
Once we had everyone more or less intact, we sat down to steak accompanied by tater tots, Iceberg Wedge Salad, and ultimately Belgian chocolate Cake with Malted Chocolate Frosting (which some folks chose to eat as a Cake 'n Cone).
I made Belgian chocolate Cake with Malted Chocolate Frosting for Anna's birthday two years ago. It was amazing, but the filling—though interesting with white cake mix for flavoring—didn't seem entirely worth the effort. This year I made it with just the malted chocolate frosting and 3 layers of moister-than-moist cake. It was a tremendous hit and I'll be sure to make it again.
Thanks to all the folks who helped out with the kids and my mental state while Shane was off battling the hurricane and possibly dead. And happy, happy birthday Auntie Anna!