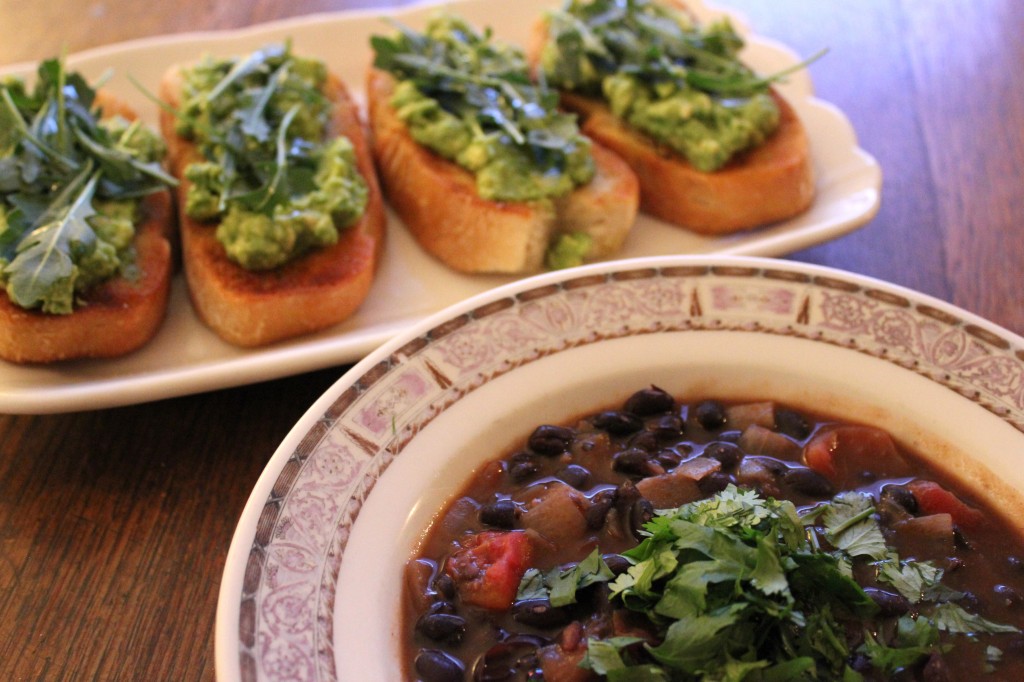 We won't ever grow tired of black bean quesadillas, still, I felt like mixing up my bean repertoire tonight. This soup is perfect for a weeknight. I think it's best with a heaping pile of cilantro on top, but my 5-year old had it without (and loved it).
The toasts were simply grilled bread topped with mashed avocado (with lime and salt, I should have also added garlic), arugula, a drizzle of olive oil, and a sprinkle of sea salt.
Do you see that bluish glow on the table? That's daylight, folks. Glorious, beautiful daylight at 7pm! (Take that, winter blues.)
• Weeknight Black Bean Soup •
2 tablespoons olive oil
1 medium onion, chopped
2 teaspoons ground cumin
1 cup chopped tomatoes, from a can (I used San Marzano)
2 14oz cans black beans, rinsed and drained
2 cups broth (veg or chicken) OR 2 cups water and 2 teaspoons Better Than Bouillon
salt & pepper to taste
a big pile of chopped, fresh cilantro
Heat the oil in a heavy bottomed pot or dutch oven over medium heat. Add onion and saute until soft and translucent. Add cumin and stir to combine. Add tomatoes & beans, cook for a minute, then add broth. Mash the beans a bit with a potato masher to release some of their starch and thicken the soup. Simmer for 10 minutes or so. Serve with a big pile of cilantro on top.