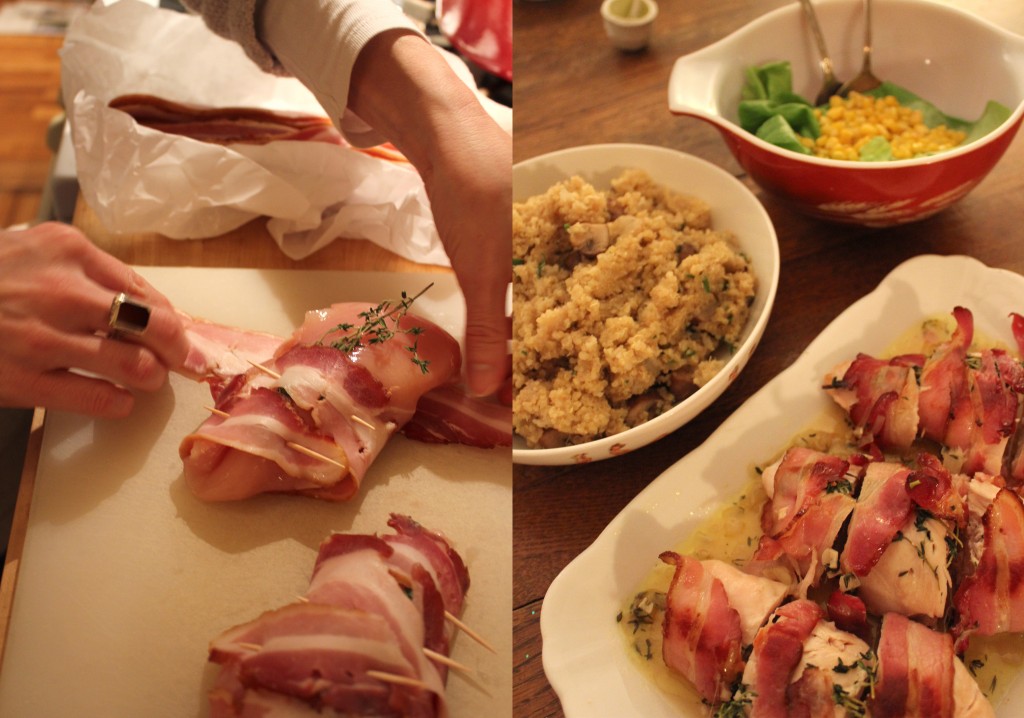 It used to be that the first thing Rose said upon sitting down at dinner was "Aaaaaaaaaah! I don't like this dinner! I DONT LIKE THIS DINNER!" or "Aaaaaaaaaah! What else is there? WHAT ELSE IS THERE?" or "Aaaaaaaaaah! There's no meat on this table! I ONLY LIKE MEAT ON THE TABLE!"
Tonight she sat down and said "Oh, corn! I love corn! Raise your hand if you love corn!" And I realized that it's been a really long time since we began a meal with the ear-piercing "Aaaaaaaaaah!…" How wonderful is that?
But you probably want to hear about the bacon-wrapped chicken. I used this recipe from Gramercy Tavern. I knew my family wouldn't go for the chicken livers. I made it exactly per the recipe, but left out the livers and used vegetable Better Than Bouillon in the sauce, instead of stock.
The family loved it and my vegetarian self didn't feel too bad about all that hands-on work, because the chicken was Murray's, which is certified humane. The bacon was homemade, from the Empire Market. (Yes, we're still milking that stash).
We had Quinoa with mushrooms, from this recipe but with a big handful of fresh parsley, instead of sage. The salad was boston lettuce with roasted corn kernels. Raise your hand if you love corn!