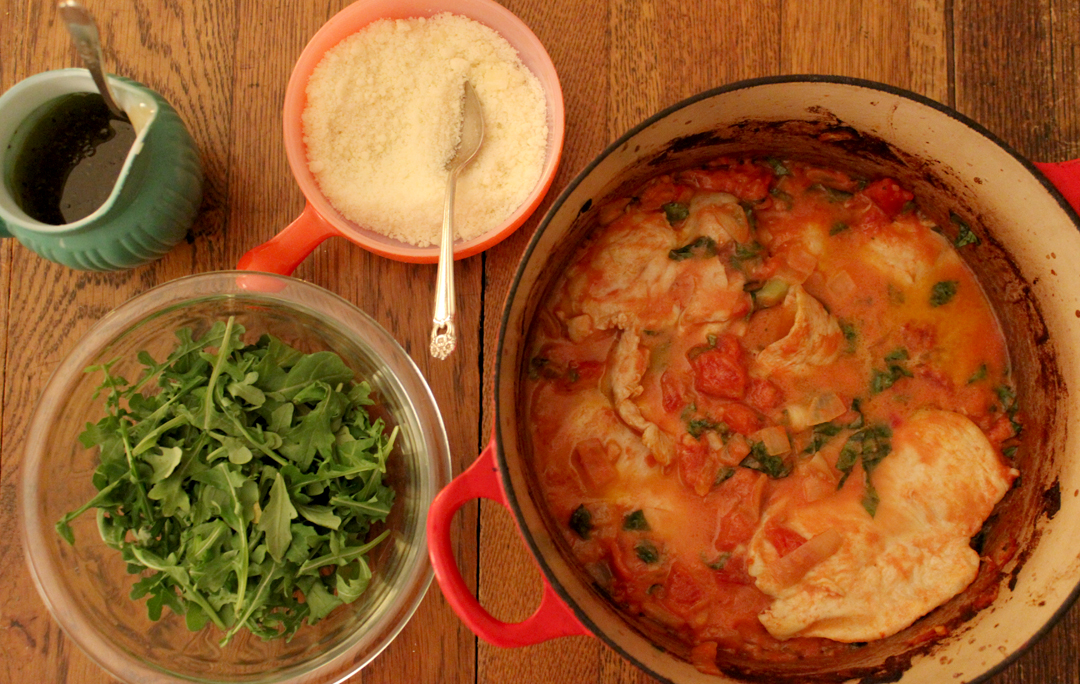 Chicken baked in creamy tomato sauce is from the Dinner A Love Story book. I've been meaning to try it for a while and finally did tonight. Rose ate a huge helping without comment, and Shane devoured the rest.
Perhaps they were just really hungry? I think not.
Since I don't eat chicken, I doctored up some leftover pasta e fagioli from a recent takeout meal. It was okay, but not as good as this recipe.
• Chicken Baked in Creamy Tomato Sauce •
original recipe from Dinner A Love Story 
3-4 boneless (we use skinless) chicken breasts
3 tablespoons olive oil
1 onion, finely chopped
2 cloves garlic, minced
1 15oz can chopped tomatoes, we use San Marzano
3-4 tablespoons mascarpone cheese
a large handful of basil, roughly chopped
salt and pepper
parmesan or pecorino for sprinkling (optional)
In an ovenproof skillet or Dutch oven, brown 3 to 4 large boneless, skinless chicken breasts over high heat in olive oil, about 2 minutes a side. Remove breasts from pan. (They do not have to be cooked through.) Turn down heat to medium-low and add onion and garlic. After about 2 minutes, stir in the chopped tomatoes and simmer for 15 to 20 minutes. Stir in mascarpone and basil and season with salt and pepper. Add chicken breasts back to pan, immersing them in sauce. Bake at 350°F for 20 minutes. Serve with grated parmesan or pecorino if desired.