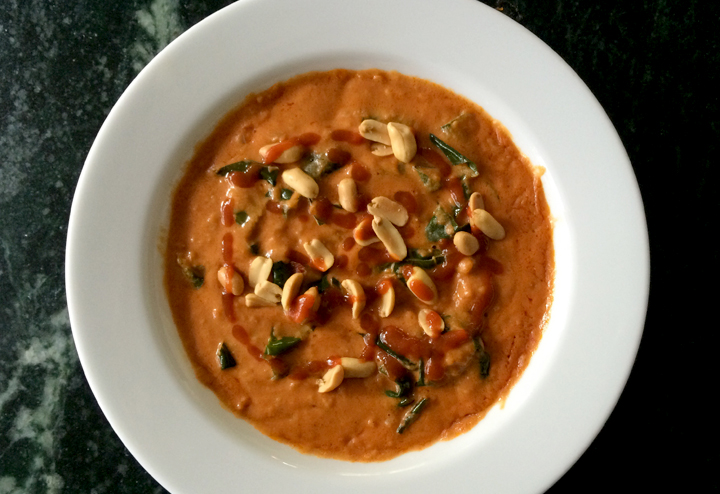 One of the reasons I hardly post anymore—aside from the full time job, long commute and second kid—is that the lighting around here stinks for food photography. It's perfectly nice overhead lighting but makes our meals look all orangey and gross.
I thought maybe my mad Photoshop skills were somehow lacking in the one area needed to get our meals not to look awful, and then I read this article and was vindicated. It's not me, it's the lighting!
Long story short, I'm working on the lighting. In the mean time, here's a this totally amazing vegan peanut soup that my sister made for everyone on Thursday, which I took a picture of in glorious daylight, when I ate the leftovers for lunch.
Did I tell you my sister and brother in law moved in with us? We now have 6 adults, 2 kids and 5 cats living together in my parents' house. It's awesome, really.
Back to the soup. It's thick, delicious, hearty and vegan. Full of creamy tomatoey goodness, collard greens, peanuts, served over rice and topped with Sriracha. How can you go wrong?
Anna served it with a rotisserie chicken (for Rose and the lads) and a nice cool cucumber salad. We all agreed it would be a great make-ahead.
• West African Peanut Soup •
from Cookie and Kate
6 cups vegetable broth
1 medium red onion, chopped
2 tablespoons peeled and minced fresh ginger
4 cloves garlic, minced
1 teaspoon salt
1 bunch collard greens (or kale), ribs removed and leaves chopped into 1-inch strips
¾ cup natural peanut butter*
½ cup tomato paste*
Sriracha 
¼ cup roughly chopped peanuts, for garnish
In a medium Dutch oven or stock pot, bring the broth to a boil. Add the onion, ginger, garlic and salt. Cook on medium-low heat for 20 minutes.
In a medium-sized, heat-safe mixing bowl, combine the peanut butter and tomato paste, then transfer 1 to 2 cups of the hot stock to the bowl. Whisk the mixture together until smooth, then pour the peanut mixture back into the soup and mix well. Stir in the collard greens and season the soup with hot sauce to taste. Simmer for about 15 more minutes on medium-low heat, stirring often. Serve over rice if you'd like, and top with a sprinkle of chopped peanuts.
* Add more peanut butter and tomato paste if you want it thicker