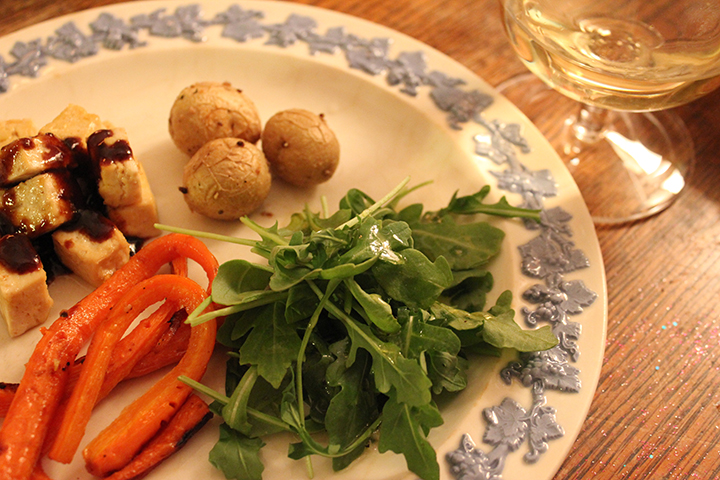 It's been so, so long since I did a regular, non-special occasion, weeknight post. This kind of breaks my heart because the whole point of this blog was dinner, every night. We still eat together, I just don't have time to post. I feel like I've said that before.
Tonight was inspiring. Everyone was sitting down at the table (sort of). Everyone (except Sid) was eating. It was (almost) perfect. It was delicious, because it was Better Miso Glazed Salmon (which I don't eat).
Vegetarians do not despair! It was also baked tofu (recipe below) with some of the butter-miso sauce put aside before it went on the salmon. Add to that roasted carrots, roasted little potatoes, salad and I'm hooked.
• Baked Tofu •
Ingredients:
1 package extra firm tofu
a few glugs of peanut oil
salt
Press tofu between several layers of paper (or clean cloth) towels, weigh down with a cast iron skillet or something else heavy for 1/2 hour or so until a lot of the water has been squeezed out. Heat oven to 350 degrees. Cut tofu into 1″ squares and toss with olive oil and salt, be generous!
Lay tofu squares out on a foil or parchment lined baking sheet – separate them so they're not touching. Bake for about 20 minutes or until starting to become golden but not firm (they firm up after the come out of the oven). Remove from oven and let sit for a moment or two. Serve with your favorite tasty sauce (such as butter-miso sauce)
Oh, and here's that salmon: