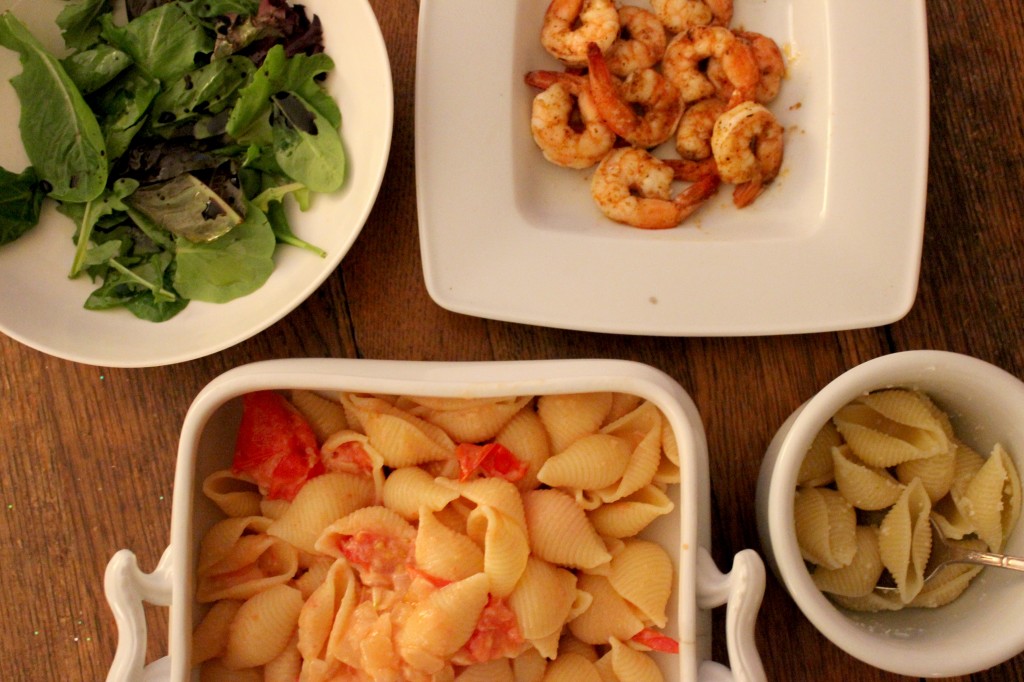 We had an appointment this evening which was poorly timed, to interfere completely with dinner. It seemed the best option would be to get everything all ready to cook when we got home, or to go out. Nobody wanted to go out.
If you prep this meal ahead of time, which should only take 20-30 minutes, everything can be done in as long as it takes you to boil a pot of water and cook the pasta.
On the menu: Pasta with Tomato Ginger Salsa and Creme Friache, Grilled Shrimp, done in the broiler, plain pasta for Rose, and a simple salad.
To make ahead, just prepare the tomato and ginger sauce and set aside. Thaw your shrimp and coat with the butter spice sauce, put in an oven-proof pan (if broiling), and pop in the fridge until ready to cook.
When you get home, immediately boil a pot of water. I fill my pot half way and use the electric kettle to boil the other half of the water to cut the boiling time in half. Heat your broiler.
Get a box of washed greens and drizzle with olive oil and vinegar. When you put the pasta on to cook, warm the sauce over low heat. Then put the shrimp in to broil, they only take a few minutes. Drain the pasta and mix with the sauce and creme fraiche. You're done!