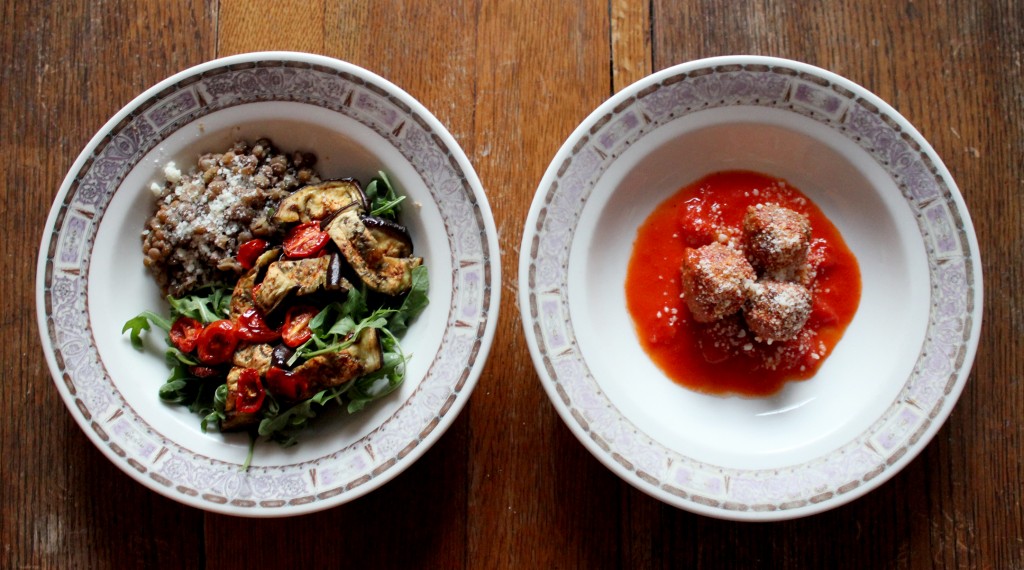 I love eggplant. I can eat an entire roasted eggplant in one sitting, I really can. Lately, I've also been going nuts for oven roasted grape tomatoes. I usually eat half of them while I'm preparing whatever dish I've decided to include them in. Tonight I wanted both, over arugula, with a side of lentils.
My friend Elana roasted eggplant on parchment when we ate at her home in San Francisco last week. Her eggplant was much better than mine, which I usually roast right on the baking tray. Tonight, I lightly oiled and salted some parchment paper, put the eggplant slices down, flipped them over and roasted at 400 until golden on both sides, flipping halfway through. This is my new eggplant roasting method, thanks Elana!
Rose had three meatballs in red sauce. Shane came home late* and had many meatballs, in red sauce, over spaghetti.
*Shane is currently trying to rent out half of his beautiful, light-filled art studio in Williamsburg. If you're interested, send me a message via the contact link up top.