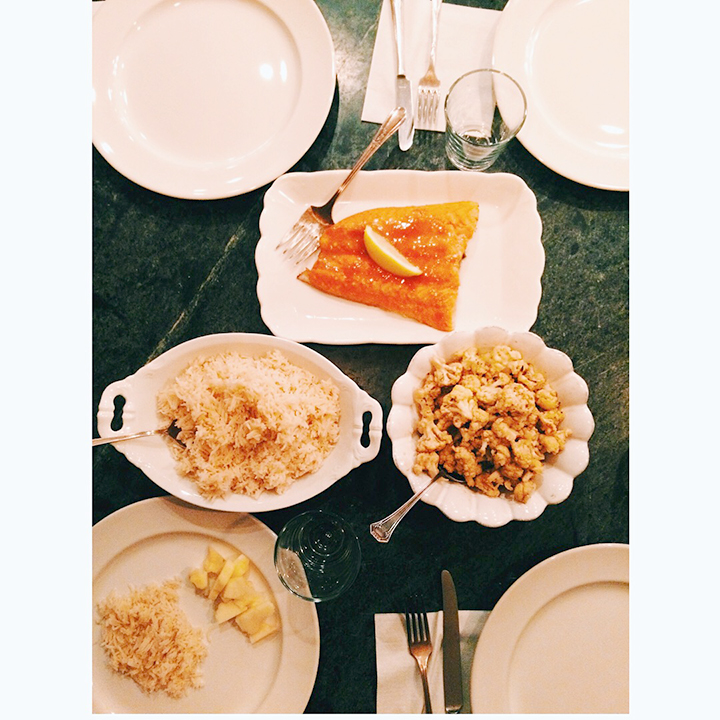 Looking through old posts for a recipe tonight, I realized that I can get pretty enthused about cauliflower. And yes, I'm enthused about cauliflower again tonight.
But let's back up.
I wanted to make something special tonight because for the first time since May, we weren't frantically trying to pack up and get everyone out the door in time to beat traffic and make it to the Cape in time for dinner.
Not that there's anything wrong with that.
I wrestled the kids into the car and went to Whole Foods, anticipating the mob scene that is Whole Foods on a Friday. But it wasn't a mob scene, it was empty. Apparently Bostonians don't go shopping in the rain.
I was going to make Cappelini with Shrimp. I started in produce and then realized that I didn't need to start in produce because I would actually be able to navigate back to produce because the store was so empty.
I grabbed a cauliflower and an eggplant anyhow. Who cares! I thought, I can come back to the produce section later. I can come back twice if I want!
I went over to the fish department. Shrimp was hella expensive. I bought the Amazon Prime salmon for ten bucks a pound instead.
Usually I make myself some baked tofu when I make salmon for the family. I picked up a package of tofu and put it back. Then I spent 20 minutes freezing—that store is cold when it's empty—while I haggled with Rose over what would constitute an acceptable under $10 snack.
I decided to make cauliflower gratin and picked up some cheese on the way back to the produce department.
Then we made our way to bakery. If you've been to our local Whole Foods you know how crazy that is. You don't go from Tofu, to Produce and then over to Bakery. That's nuts. It's also impossible.
But the store was empty.
I got in the first check out lane available. As I put my stuff on the conveyer belt I realized that we were in the express lane. Fuck it. The store was empty. Some dude shoved by us with a bunch of bananas even though the other lanes were all open. He must have had principles.
But what about that cauliflower?
Ok. I got home and realized that cauliflower gratin would be totally gross with miso glazed salmon. Plus I was not in the mood to make a bechamel.
Enter Anthony Bourdain. I read his book and got tired of hearing about how much he can drink and smoke and wrote him off. But the thing is, that man knows exactly how much salt to use, and how much sauce is the right amount of sauce.
His recipe for roasted cauliflower with miso tahini sauce is perfect with no substitutions*. I didn't have to double the oil, salt or sauce. Sorry I wrote you off Anthony. Also there's no such thing as too much miso.
*More or less, I added cumin and red pepper flakes and didn't have sesame seeds but would have used them if i did.
• Roasted Cauliflower with Tahini Miso Sauce •
from Anthony Bourdain
Serves 4-6
1 (3-ish pound) head cauliflower, cut or broken into bite-sized florets
1/4 cup extra-virgin olive oil
2 teaspoon salt
1 teaspoon coriander
1 tsp. oregano
1/4 teaspoon cumin
a generous pinch or three of red pepper flakes (depending on how spicy you like it)
Ground black pepper
2 tablespoons tahini
1 tablespoon white miso
2 teaspoons red wine vinegar
1 tablespoon warm water
3 tablespoons sesame seeds (if you have them)
Preheat oven to 450°. In a large bowl, combine cauliflower, oil, salt, spices, and pepper; toss to evenly coat cauliflower. On a rimmed baking sheet, arrange in an even layer, without crowding too much. Roast cauliflower for 20 minutes, turning sheet and lightly tossing halfway through.
Meanwhile, in a small bowl, whisk together tahini, miso, vinegar, and water until smooth. 
Remove cauliflower from oven. In a large bowl, toss cauliflower with sauce and sesame seeds (if using). Serve warm.