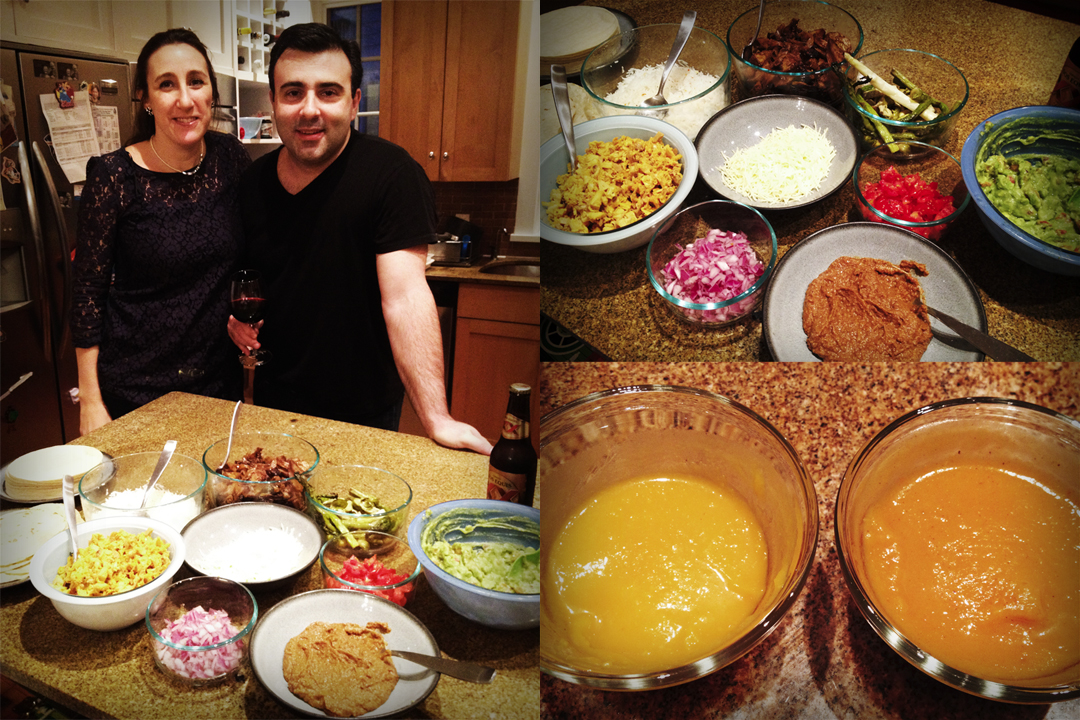 We had dinner at our friends the Blanco's place tonight. They had a lovely spread, as always, with turkey tacos (clever!) and a butternut squash soup-off. A good time was had by all, even still-pregnant me.
Let's go back to the turkey tacos. What a great idea for Thanksgiving leftovers! When you take tortillas, cheese, seemingly any leftover thanksgiving dishes and top it with mole sauce, it's delicious. The kids can skip the mole if they want.
James' quick mole sauce really pulled everything together. He pointed out that you can make the kind of mole that takes days, or you can do a quick version in the blender. I didn't know there was such a thing as a quick blender version, but it was really good!
James and Fiona each made a batch of butternut squash soup, and we did a blind taste test. The results were—and have been, when tested on others—pretty much even. Which means to me that they both make a really good butternut squash soup. Fiona's was classic, subtle and butternutty, and James' was spicy and appley.
For dessert I made Martha Stewart's Banana Bread with coconut, toasted pecans and chocolate chips. the recipe doesn't actually call for chocolate chips, but I think they're a great addition. Recipe after the photo.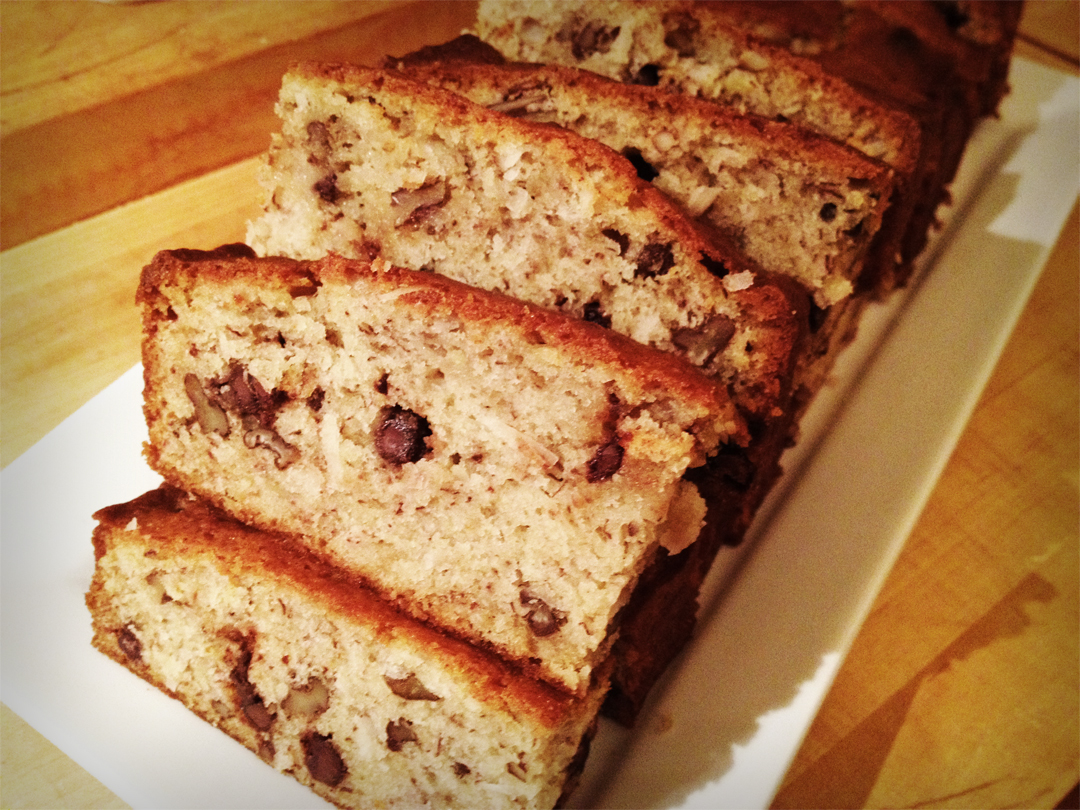 • Banana Bread with Coconut, Pecans and Chocolate Chips •
from Martha Stewart's Baking Handbook 
3 cups all-purpose flour
1 teaspoon baking soda
3/4 teaspoon salt
3 large eggs
2 cups sugar
1 1/3 cups canola oil
2 tablespoons pure vanilla extract
1 1/2 cups ripe mashed bananas (about 3 medium)
1 cup unsweetened dried shredded coconut
1 cup walnuts or 1 cup pecans, toasted and finely chopped (I prefer pecans)
1/2 cup buttermilk
3/4 cup chocolate chips
cooking spray
1. Preheat oven to 350°. Coat pans with cooking spray; set aside.
2. In a large bowl, whisk together the flour, baking soda and salt; set aside.
3. In the bowl of an electric mixer, beat the eggs, sugar and oil on medium-low speed until combined.
4. Beat in the flour mixture. Add the vanilla, banana, coconut, nuts, chocolate chips and buttermilk and beat just to combine.
5. Divide batter between prepared pans; smooth with an offset spatula.
6. Bake, rotating pans halfway through, until a cake tester inserted in the centers come out clean, 60-65 minutes. Transfer to a wire rack to cool for 10 minutes. Remove laves from pans and let cool completely.
7. Bread can be kept at room temperature, wrapped in plastic, for up to 1 week, or frozen for up to 3 months.