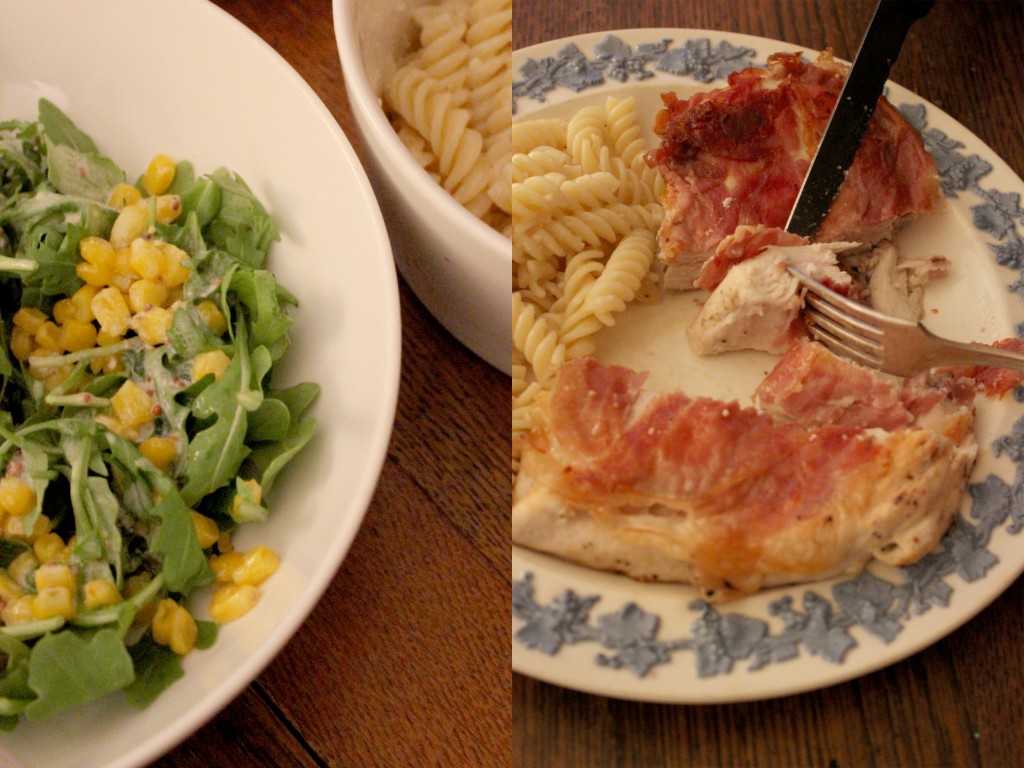 We just got home, this was a fly by the seat of my pants kind of meal. Shane loved the prosciutto chicken. Rose did not, but that's because she no longer likes chicken… until next week when chicken is her new favorite food. Ah, the joys of a fickle five year old.
We also had, simple pasta with pecorino, olive oil, butter, pepper and a dash of cream. And an arugula salad with roasted sweet corn and creamy mustard dressing.
• Prosciutto Chicken •
adapted from this Bon Appetit recipe
2 boneless, skinless, chicken breasts
8 slices prosciutto
salt & pepper
2 teaspoons flour
1 tablespoon olive oil
1 tablespoon butter
Place the chicken breasts on a plastic-wrap covered cutting board, smooth side up. Lay four prosciutto slices on top of each chicken breast, making sure to cover the entire breast and leaving a bit hanging off the edge. Cover with another sheet of plastic and pound until the breasts are about 1/2 to 3/4 thick. Remove plastic, flip breasts over and season opposite (non-prosciutto) side with salt & pepper, then sprinkle each breast with 1 teaspoon of flour. Heat oil and butter in a large skillet over medium heat. When butter has melted, add chicken, prosciutto side up. Cook for about 5 minutes and flip, cook for another 5 minutes until cooked through. Serve with pasta.