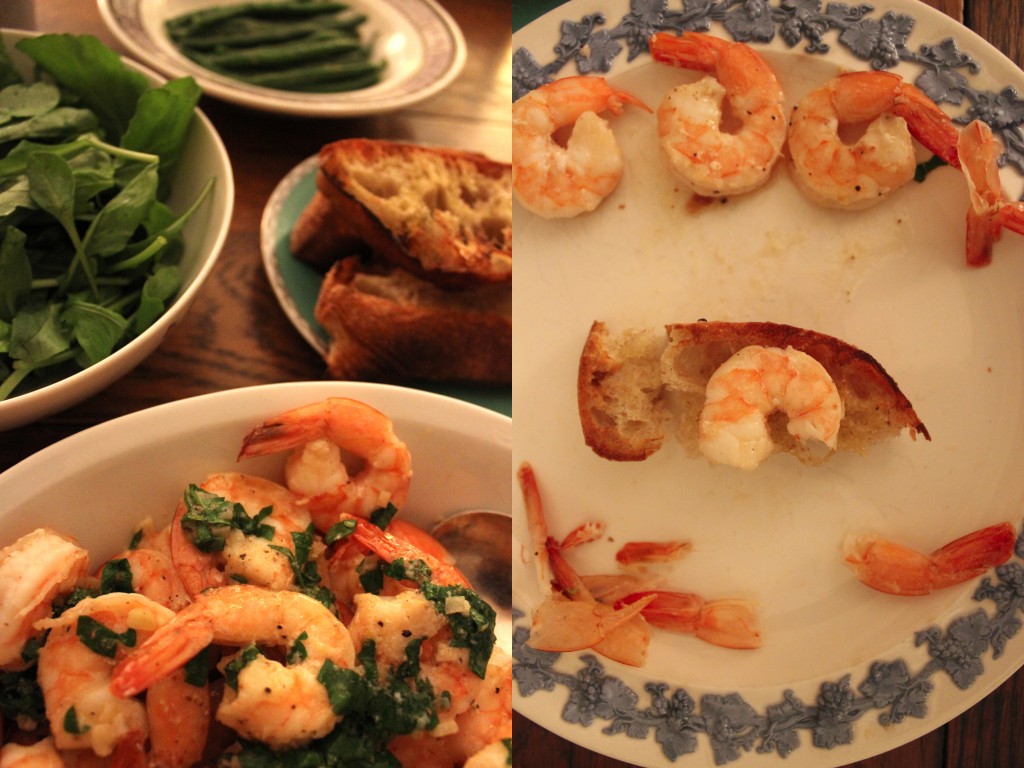 The first time I ever had Shrimp Scampi was when I was pregnant, I had recently started eating fish after not having eaten it in 20 years. My dad made dinner that night, and I thought it was the best seafood dish I'd ever had. Instead of serving it with pasta, he ladled the shrimp scampi over grilled bread, so that we could take full advantage of the buttery, juicy goodness that was the sauce.
Tonight, I used this recipe from the food network. It's not the same recipe my dad uses, and it would be fine if the plan was to serve it over pasta. In order to serve it over grilled bread, you need to double the butter, the lemon juice, and the vermouth. Next time I might also add 1/2 cup of broth. All this in order to create adequate juice to mop up with the bread.
• Grilled Bread •
Use a hearty ciabatta. Cut the bread into thick slices (at least 1.5″) and brush both sides, generously, with olive oil and sprinkle them with coarse salt. Put the slices of bread on a baking tray and into the hot broiler for a couple of minutes per side, until golden. You need to really watch the bread as it toasts, or it will burn. I burnt the first batch. To a crisp.
When ready to serve, place a slice of bread on your plate and spoon the shrimp and lots of juice over it. Rose demonstrates the kid version in the photo above right. She prefers to remove the tails and pick off the tiny bits of parsley before topping her bread with shrimp. She'd also advise you to avoid the vegetables all together.
We had simple, mustardy green beans and an arugula salad to balance things out. All agreed it was a great meal. Even the  4-year-old.